We're your local source for exceptional HVAC and home heating services. We've been in business for nearly fifty years, helping homes all over Portland stay heated and protected from the elements. Our expert technicians have the skills necessary to install, repair, replace an HVAC system. Looking for a more cost-effective way to heat your home? We can recommend HVAC solutions!
Home Furnaces
Are you experiencing cold spots? Is your furnace heating your home too slowly, or not heating your home at all? Contact Multnomah Heating! We perform emergency repairs, and we would be happy to inspect your furnace or install a new one.
Home Heat Pumps
Since their introduction to the heating and cooling industry, heat pumps have become more and more popular in homes across America. They can help heat specific rooms, or cold spots throughout your home. They can also help keep utilities low!
Home Ductless Heat Pumps
Ductless heat pumps can be installed nearly anywhere, and are especially popular in older homes, or homes without a central heating system. Because of their usefulness, they've become some of our most popular installations.
Trane HVAC Products
As an industry leader, Trane manufactures quality and reputable products. We're proud to recommend them as a long-lasting and dependable source for all of your HVAC needs. Their furnaces and heat pumps are renowned for being highly energy-efficient and affordable.
We can install, repair, and replace any Trance products. Ask about our favorite HVAC solutions today!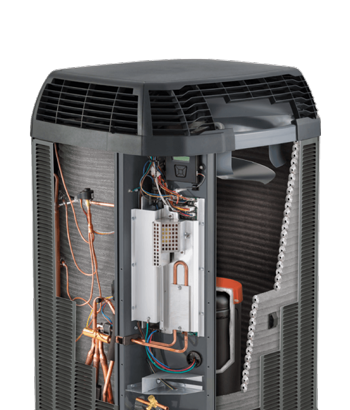 HVAC Maintenance Programs
The key to keeping your HVAC products in top shape is maintenance. We recommend having your HVAC system looked over at least twice a year: in the fall before winter, and in the spring before summer hits.
When we maintain your HVAC system, we'll inspect it from top to bottom. We also replace filters, check battery backups, and replace any other components that may need replacing. With Multnomah Heating, your HVAC is in good hands!
Expert Residential Heating Services
When it comes to HVAC installation, repair, and replacement, Multnomah Heating has you covered. Our decades of experience have enabled us to remain at the top of our industry. We can diagnose issues quickly and precisely, fixing your HVAC system and getting your heating back to normal. 
Our maintenance services are effective and comprehensive. We want your home heating to be as functional as possible! With Multnomah Heating, you won't have to try DIY tricks or live with home fixes: you'll get expert and essential repairs done quickly and affordably. Contact us today for all of your home heating or HVAC needs!