Ductless Heat Pumps Service & Repair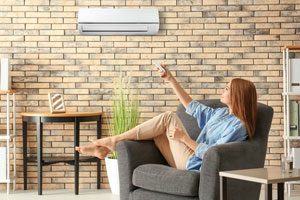 If you have a ductless heat pump in your home, you are probably already aware of how efficient this unit can be. However, even the best heating and cooling equipment can't continue to last forever without having some type of maintenance or repair done. A telltale warning sign that indicates you may be having a problem with your ductless heat pump is if you are starting to feel hot or cold patches of air. To have your unit evaluated by a trustworthy professional, it's probably time to call and speak with one of our certified, skilled technicians.
Expert Ductless Heat Pump Repair
Our company has been providing the Portland area with professional cooling and heating equipment and services for over 45 years. We have professional technicians who are happy to quickly come and diagnose your current ductless heat pump and see if it needs a minor repair or a ductless heat pump replacement. At Multnomah Heating, we take pride in our ability to diagnose your existing system and provide you with an affordable, trustworthy solution. We are always striving to offer the best heat pump repair service, which will assist you in getting the most value out of your unit. We provide a comprehensive diagnosis and would be happy to answer any questions you may have.
Maintenance Plans for Ductless Heat Pumps
One way to help ensure that your ductless heat pump keeps running efficiently is by utilizing our ductless heat pump maintenance service. This is usually performed a couple of times a year before winter starts and when it's ending. One of the top benefits of having this completed on any of your heating and cooling systems is that you often stop minor repairs from escalating into expensive, major problems. By calling us and speaking with an experienced, skilled technician, we can help you determine an appropriate maintenance schedule that will help safeguard your entire HVAC system.
Certified Ductless Heat Pump Service Technicians
It's really not surprising that a large number of homeowners rely on our heating and cooling company when they require a ductless heat pump repair or replacement. We are knowledgeable, trustworthy and always happy to provide the best service to our customers. When you require ductless heat pump maintenance or repair, be sure to contact us. We'd be happy to discuss your specific situation and help you find the perfect solution.