Furnace Service & Repair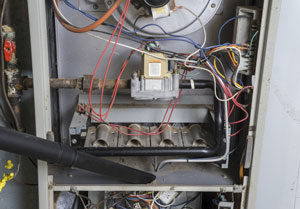 If it's cold outside and your furnace decides to stop working, you'll require the assistance of a reliable and trustworthy furnace repair company. Having a furnace that is functioning properly is a non-negotiable priority, especially during the coldest time of the year.
If you notice the following, it's likely time to call the furnace repair experts at Multnomah Heating:
A loss in heating performance
Difficulty starting your gas furnace
Cold spots in different areas of your home
There will be unusual noises coming from your furnace
Expert Furnace Repair
We understand how frustrating and annoying it can be to have your furnace suddenly shut down – it's during times like these when we can come to the rescue and provide you with our professional furnace repair service. We have highly skilled technicians who can quickly diagnose and discover any problems. We'll give you a rundown of all the possible solutions and are always available to answer any questions that you may have. When a challenge occurs on any part of your heating or cooling system, it's important for you to know that you can rely on a company that has both knowledge and experience and is proud to provide exceptional service.
Is it Time for a Furnace Conversion?
In addition to providing you with furnace repair services, Multnomah Heating Inc. can also handle furnace upgrades. We have the ability to work on various types of furnaces and can provide you with expert service. It's not surprising that a large number of Portland residents rely on our exceptional heating system services, whether that's for furnace maintenance, installation or furnace repair.
Furnace Maintenance Plans
One way to make sure that your furnace doesn't suddenly start giving you trouble is to use our furnace maintenance service. Often, costly repairs can be avoided by keeping your furnace maintained on a regular basis. This will not only provide you peace of mind, but it may also save you money in the long run. The expertise and safety that we offer will help ensure that any required repairs will be performed correctly and with high-quality parts and equipment.
When you need to hire a furnace repair company that can get the job done right the first time, give us a call. We'd be happy to help.