Heat Pump Sales & Installation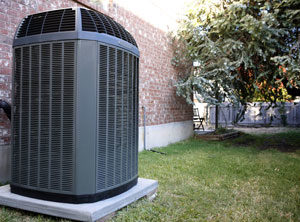 Have you started to notice cold patches in certain rooms of your house? Are you frustrated with a utility bill that seems to creep higher, month after month? It's possible that there's an easy solution for both of these challenges. You may want to consider utilizing a heat pump, which will create a comfortable environment and probably help you save money on your energy costs.
Benefits of Heat Pump Installation
One of the advantages of having a heat pump is that it provides both heating and cooling throughout the year. During the summer, you can enjoy both cooling and dehumidification, and when winter rolls around, your heat pump will work in reverse to warm each room. This electrical device operates by circulating refrigerant between a couple of heat exchanger coils. In one of the coils, the refrigerant goes through an evaporation process and absorbs heat. The refrigerant is then pushed and compressed through the other coil where the second process of condensation takes place. If the internal thermometer of your heat pump indicates that the inside of your home requires heat, it will be released inside. Otherwise, it's sent outside, which keeps the inside of your home cool.
Expert Heat Pump Installation
When you're looking at the features of a number of new heat pumps and trying to decide which one is best for your home, you can rely on the knowledge and experience of our certified, skilled technicians. We've been providing both heating and cooling equipment to Portland and the surrounding area for over 45 years. We always use the top HVAC brands when we are installing a new heat pump and also provide heat pump repair and maintenance throughout the area if you ever have a problem or want to make sure that your heat pump is working as efficiently as possible.
New Heat Pumps vs Furnaces
When you're thinking about installing a new heating system, you do have a few options. One of the decisions that you'll have to make is if you want to use a heat pump or furnace. If you choose a furnace, it's job is to provide heat during the cold months of winter, but unlike a heat pump, it isn't able to reverse its technology and keep your house cool during the summer. A heat pump combines three key features as it has the ability to heat, cool and also reduce humidity. The combination of these three functions can be an advantage.
When you require a new heat pump installation, consider using our service. Multnomah Heating Inc. has been a reliable and trustworthy source for both heating and cooling for over 45 years. Call us today with any questions you might have.