Heat Pump Service & Repair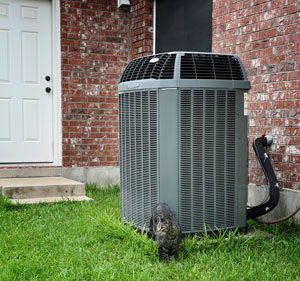 If you are currently using a heat pump and have an energy bill that seems to constantly go up during the summer and winter months, it may be worthwhile for you to contact our HVAC experts and see if heat pump repair might help. Like any mechanical system that is constantly running, there may come a time when a problem occurs and needs to be replaced or repaired by a professional.
Expert Heat Pump Repair
Our certified, skilled heating and cooling technicians are trained to diagnose a number of HVAC systems. If you have started to notice that there are cold or hot patches in certain areas of your home, it could mean that your heat pump isn't working as efficiently as it should. When you call us, one of our experts can come to your aid and quickly diagnose your unit to find out what's causing the trouble. After the diagnosis has been completed, we can discuss the options that are available. We take pride in our ability to provide an affordable and knowledgeable heat pump repair service.
Heat Pump Maintenance
To safeguard against any problems that might occur with your heat pump, it helps to utilize our regular heat pump maintenance service. The service includes a thorough cleaning and comprehensive inspection. By taking a proactive approach to make sure your heat pump continues to work correctly, it will help ensure that your heating unit doesn't have a minor problem go unnoticed that could turn into a major repair in the future. Our heat pump experts are fully certified, friendly and only use high-quality equipment and parts when a repair is required.
Certified Heat Pump Technicians
When your heat pump begins to have problems cooling or heating your home, you can depend on our trustworthy technicians to remedy the situation. Whether your heating system requires a repair and high-quality parts or it needs to be totally replaced with an energy-efficient heat pump that comes from a popular brand, you can rely on our expertise and experience. We are proud to offer heat pump repair as well as heat pump maintenance and installation throughout the Multnomah area.
If you'd like more information about how we can provide an affordable and efficient heating or cooling solution, be sure to contact us today at Multnomah Heating Inc.