Honeywell Thermostats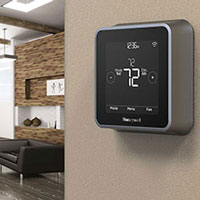 Choosing to use a smart thermostat can assist you in cutting down your energy costs. It will also make your life more convenient and increase the comfort of your home. Our HVAC company has been serving the Multnomah community for over 45 years. This experience has helped us recognize the top heating and cooling equipment manufacturers. When you are looking for dependable HVAC products, the Honeywell name will always rise to the top of our recommendations list. This company has been involved in producing high-quality thermostats for close to 100 years, and it's a brand we know we can trust.
Honeywell Thermostats are Innovative and Popular
Honeywell has been a top HVAC equipment manufacturer that has continued to be dependable and innovative. With this in mind, it's not surprising that their line of Honeywell thermostats is both reliable and popular. If you're not sure what features you'd like in a thermostat, we can help you decide. There are a number of programmable Honeywell thermostats available. They come at various price points based on the features that they offer.
Benefits of a Honeywell Thermostat
Wi-Fi Communication: When you combine your Honeywell thermostat with a smartphone or computer, you'll have ultimate control over your heating and cooling system. Wireless technology allows a Honeywell thermostat to communicate with you 24/7. If you're away from your business or home, you can easily check on your property and remotely make any changes that you'd like.
A Range of Styles and Abilities: Honeywell thermostats are available in many different colors and shapes. Some units have voice-recognition technology, humidity monitors, and convenient touch screens. Installation of Honeywell thermostats can be performed easily by our certified, skilled technicians.
Extra Energy Efficiency: Honeywell has many smart thermostats available that can automatically adjust your air conditioner or furnace when you are sleeping or out of the house. Certain features will even allow you to adjust fan speeds if you have HVAC equipment that is compatible.
Multnomah Heating Offers Expert Honeywell Thermostat Installation
Whether you've decided to replace your old, obsolete thermostat or install a brand-new unit, when you choose Honeywell in combination with our thermostat installation service, you'll receive high-quality assistance and a reliable, modern programmable thermostat from a trusted and recognized brand. If you have any questions regarding the type of thermostat that you should install, call Multnomah Heating today and speak with a skilled technician. We'll steer you in the right direction and schedule your installation!