Trane Thermostats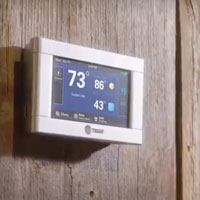 Advancements in technology have helped to make many tasks more efficient and convenient. For example, while you could still use a traditional type of thermostat to regulate the temperature in your home or business, a smart thermostat with a Wi-Fi connection may be a better choice. As an authorized provider of Trane thermostats, Multnomah Heating, Inc. can help you decide which type of thermostat is best for you.
Trane's Traditional and Smart Thermostats
Trane offers a couple of options when it's time for you to install a new thermostat. If you're combining this with older HVAC equipment, a traditional thermostat may be the perfect fit. However, when a new thermostat installation is required, you'll want to review the features that are available with a Trane programmable thermostat that includes Wi-Fi connectivity. Regardless of the choice, if you are replacing an older thermostat, it should help your HVAC system become more energy efficient so that you can save a few dollars.
Benefits Of A Trane Thermostat
Depending on the type of Trane thermostat that you choose, you can benefit with the following:
Control and Wi-Fi Connectivity: With the use of a computer, tablet or smartphone, you can quickly connect to a Trane thermostat that has a Wi-Fi connection. This will allow you to control and remotely monitor the temperature in your personal residence or commercial business. Connectivity also means that you have the ability to combine this type of control with other home devices such as your locks and lights.
Utilize Voice Technology: If you choose to, you can also have the convenience of using voice technology with a third-party AI device that recognizes your vocal commands. This provides a quick and easy way to monitor the current temperature in your home and change it if you'd like.
Real-Time Diagnostics: Having the ability to monitor your heating and cooling system by utilizing Nexia diagnostics gives you real-time access so that you are always kept informed.
Multnomah Heating Offers Professional Trane Thermostat Installation
Being able to rely on a trustworthy, dependable HVAC equipment installation company is crucial when you want to ensure that you are receiving excellent service and high-quality cooling and heating equipment. By letting our highly skilled and certified technicians replace or install a new thermostat in your home or business, you'll be receiving the best of both worlds. We can answer any questions you may have regarding thermostat installation or replacement and look forward to helping you. Give Multnomah Heating a call today!